This article was published in November 2013.
Please see
News & Campaigns
for more recent information.
A Reminder
Please note that, as from 1st November 2013, Edlesborough Parish Council new website address is: www.edlesborough-pc.gov.uk
Although the address is very similar it is essential that the -pc suffix is included for any e-mails to be received, and for gaining access to the website.
Parish Council meeting dates and venues
19th December 7.30pm at Edlesborough Memorial Hall
16th January 2014 7.30pm at Edlesborough Memorial Hall
Resignation
The Parish Council were very disappointed to receive the resignation of Councillor Mrs Julie Ratheram and would thank her most sincerely for all the help and input she has given to the Parish Council over the past 14 years.
Appointment of Vice-Chairman
Councillor Alan Williams offered himself as Vice-Chairman which was unanimously agreed by Council.
Parish Council vacancies
Edlesborough Parish Council currently has vacancies for 2 Parish Councillors and a separate notice appears in this issue of Focus. If you feel you would like to become a Councillor and represent the Parish please contact the Clerk.
Allotments
There are currently a few allotments available at Cow Lane and The Green, Edlesborough. Please contact the Assistant Clerk, Mrs Penny Pataky, if you wish to take on an allotment.
Dagnall - Gaddesden Walk
Council are awaiting a response from Bucks CC regarding the installation of railings at the junction with Dunstable Road.
Edlesborough Children's Play Area
As mentioned in the November issue of Focus the play area is now open and being extensively used. Below is a picture of the new equipment installed adjacent to the original.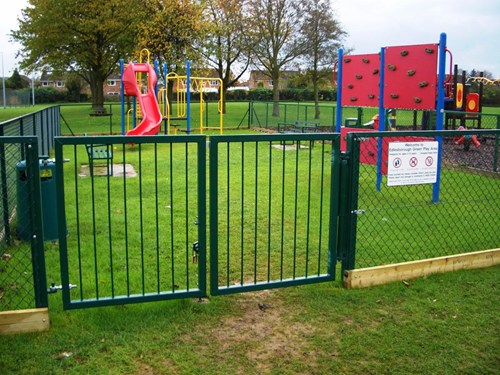 Streetlights
Several streetlights have been reported as malfunctioning and the Contractors will be carrying out repairs as soon as is possibly practical.
Requests have been received for additional streetlights to be installed in the villages. The question of changing the current streetlights to a more up to date SON lamp has been, and is currently being, discussed by the Parish Council as to carry out this work would amount to initially an extremely expensive outlay which would in due course hopefully mean less repairs to the existing lights. Edlesborough Parish Council is responsible for all the streetlights in the villages of Edlesborough, Dagnall and Northall and not the County or District Council and reports of lights not working should be sent to the Assistant Clerk.
Thames Valley Police
With the dark nights now upon us the Police are reminding residents to make sure that adequate security measures are taken when properties are left unattended, using time switches to leave a radio or light on, making sure all windows and doors are securely locked, put keys away and out of sight. The most proven safety systems are to fit an alarm or install external automatic security lighting.
Illegal dumping
On average one offender has been convicted in Buckinghamshire every week for the last five years. AVDC ask people who come across waste dumped on public land to report it for clearance on the hotline 0845 330 1856 or online at buckscc.gov.uk/fly
Contact Information
Website: www.edlesborough-pc.gov.uk
Facebook: www.facebook.com/EDANParishCouncil
Clerk to Edlesborough Parish Council: Penny Pataky, 01525 229 358 or email: [email protected]
Please note office hours are Monday-Friday 10.30am-2.30pm. Messages may be left on an answer phone outside of these hours.
Focus - December 2013 / January 2014 was published on November 23, 2013